Lemlist
Synchronisez votre signature email avec Lemlist
Et personnalisez vos campagnes de prospection !
Personnalisez vos campagnes Lemlist avec une signature email engageante !
Un des grands enjeux des campagnes de cold email est la personnalisation. Plus un message est personnalisé, plus l'intéret porté par l'interlocuteur est important. Et plus vous pourrez convertir cet envoi en une action concrète. Exemple : cliquer pour en savoir plus sur l'offre.
Cette personnalisation passe par la contextualisation de la proposition, le ton juste et la forme de l'email, qui rend votre prospection moins froide, voire intéressante et opportune. Avoir une signature email adaptée, permet d'augmenter significativement votre taux de conversion. L'échange est humanisé et réduit la distance initiale. Vous n'êtes plus suspect.
Sigilium vous permet de personnaliser vos campagnes de cold email, en ajoutant votre signature email dans Lemlist.
Comment ça marche ?
Copiez votre signature email dans Sigilium
Collez-la dans Lemlist
Prévisualisez le rendu et validez !
Lancez ou poursuivez vos campagnes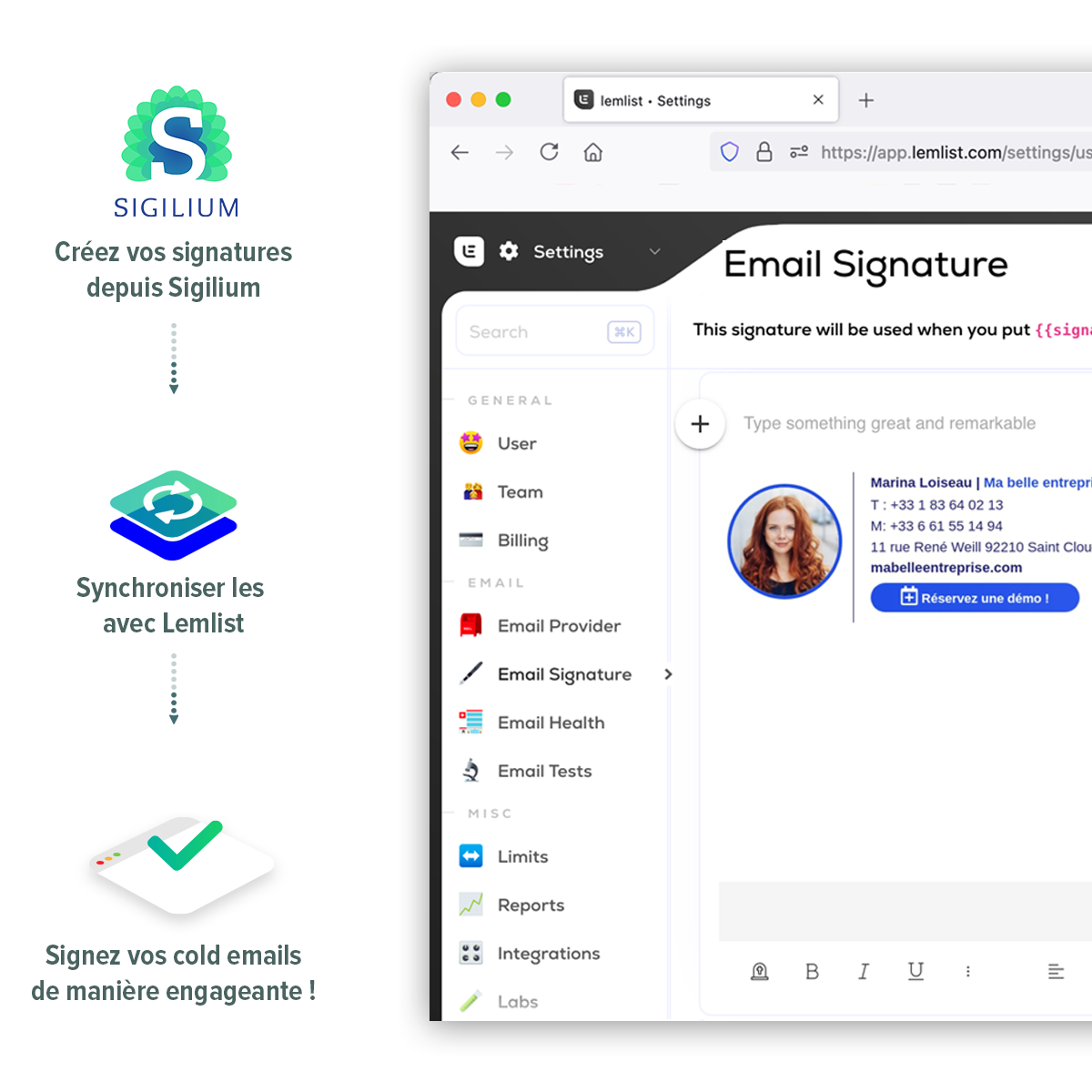 Optez pour une synchronisation automatique des signatures.
Vous pouvez copier-coller une signature email qui se mettra à jour d'elle même dans Lemlist. Elle évoluera donc selon les messages planifiés dans Sigilium.
Ou utilisez des signatures email dédiées selon la campagne Lemlist.
Vous pouvez également copier coller une signature email qui restera la même dans le temps. Cela vous permet de différencier les signatures email et les messages associés selon la campagne Lemlist.
Not yet a Sigilium's user?
Benefit from a 15 days trial and transform email signatures into a powerful and centralized channel!
Receive my example and try Sigilium
What decisionmakers say about Sigilium email signatures

⭐️ Sigilium has been elected in the TOP 10 of productivity softwares by GetApp (Gartner) ! ⭐️