5 email signature uses
for your employer branding and a targeted marketing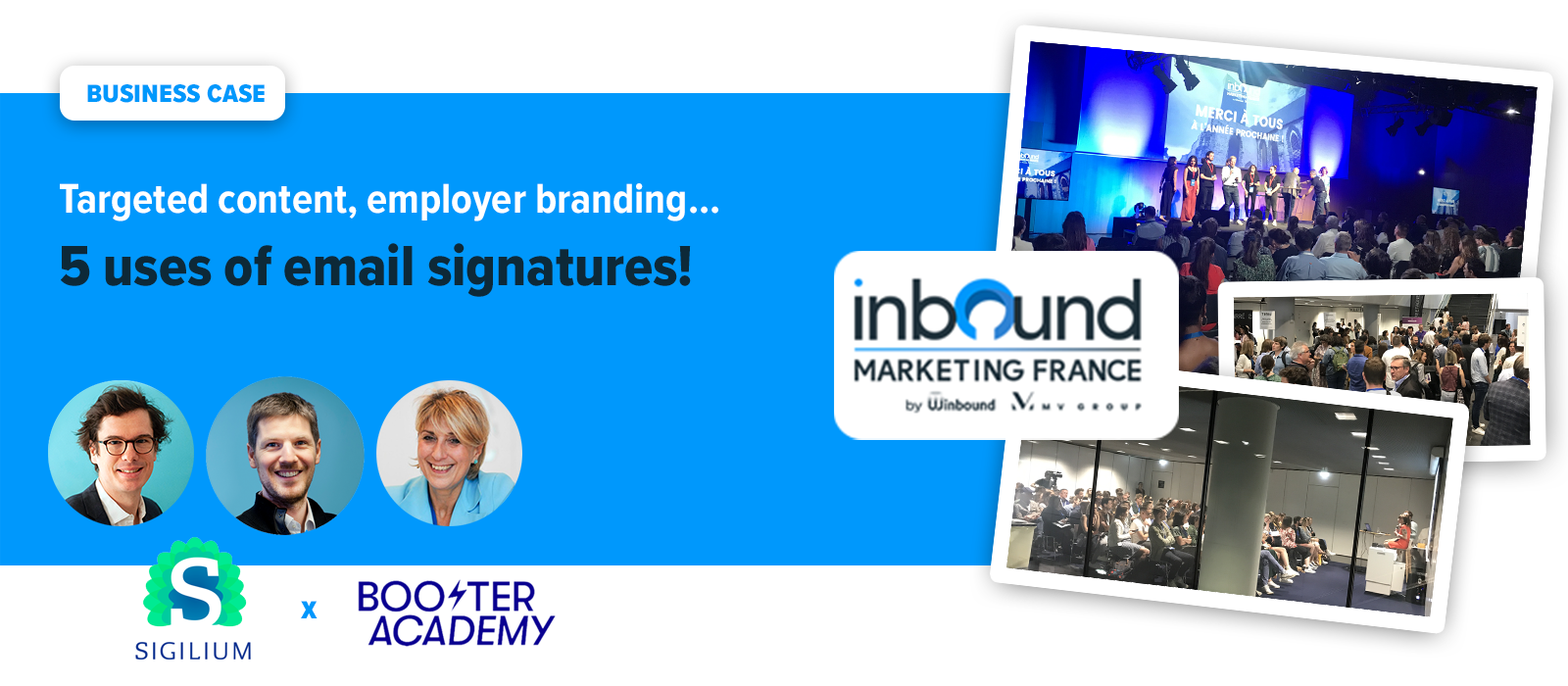 Annie-Paule Abihssira, Head of Development at Booster Academy shared her experience of Sigilium, at Inbound Marketing 2023.
And how to take advantage of the email signatures!
Context and goals for Booster Academy
Booster Academy trains sales teams in commercial excellence, and also supports and trains sales managers, a key function for companies. Booster Academy is made up of employees, trainers and franchisees who each have their training center.
The company carried out a complete rebranding in 2022, and redesigned its offers.
Results:
Identity
Thanks to Sigilium the new brand image was automatically deployed, for all the teams. At the headquarter, but also in the 23 training centers.
Targeted communication
The marketing team can centrally manage signatures and deliver targeted communications to their valuable contacts.
Measurable rates
The marketing team can directly measure contact's interest on the content deployed. A good way to improve it's communication. They can also measure the traffic generated on the website and compare it to other channels.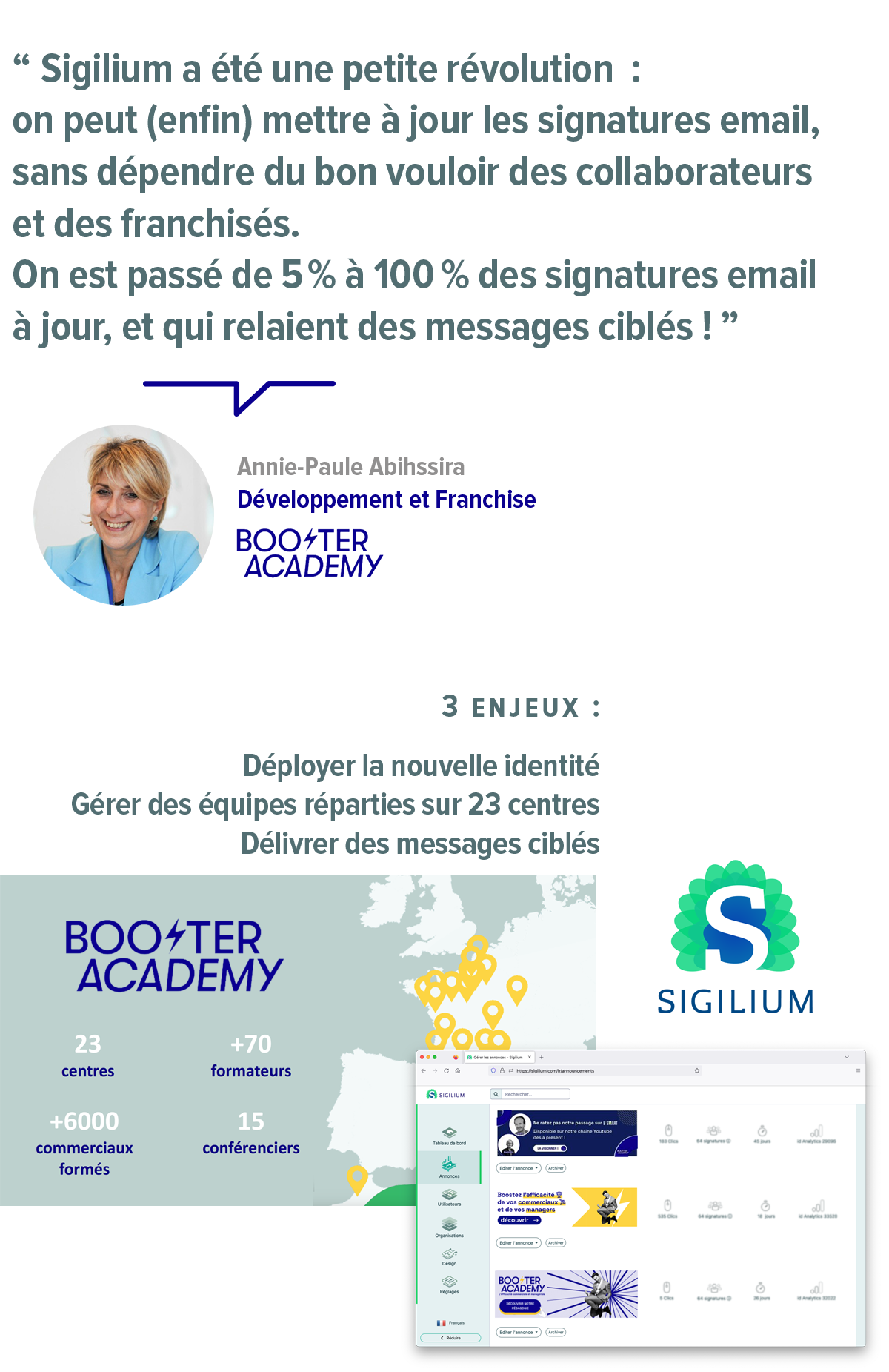 And on your side,
why regain control of the company's email signatures?
Email facts and figures
It's always a mess to ask your teams to update their email signature manually. That's why this channel is constantly under used and by the way underated among the communication tools. However, the email is the first touchpoint with the brand. Email signatures are an essential asset for the brand, and for your communication strategy.
Many opportunities
During your BtoB's customer journey, the email channel is unavoidable. Email signatures are the first touchpoint with your brand, in all email exchanges.
Don't forget your contacts spend much more time checking their email inbox, than in Linkedin or other professional social media.
It is therefore urgent to regain control of signatures and make it:
a tool serving your brand
a powerful channel for targeted communications
an effective and measurable media
Figures :
Each of your coworkers send an average of 2000 email /year outside of the company.
2h23, this is the average time spent by your interlocutors in front of their mailbox each working day.
(Source : Adobe email study 2019)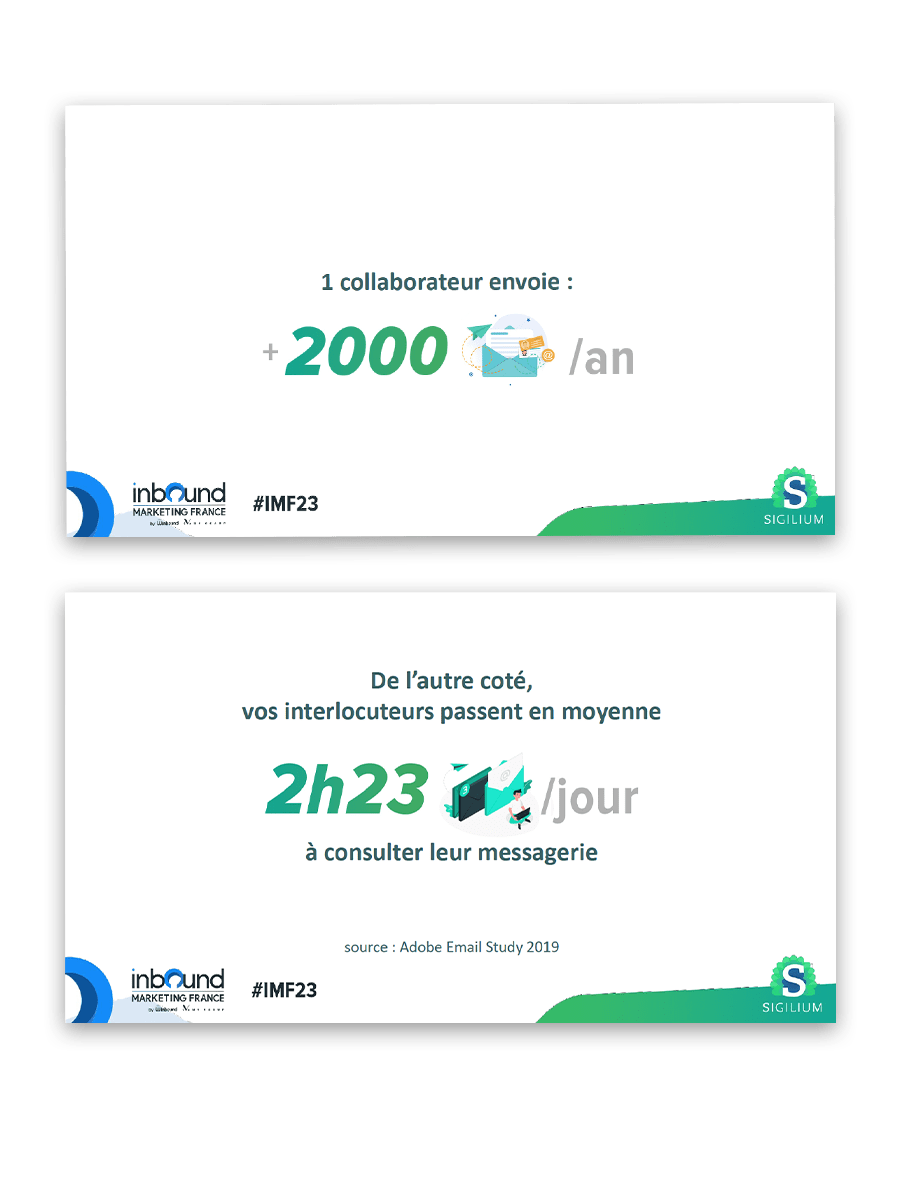 How to take advantage of email signatures with Sigilium?
Discover 5 key uses:
Promote the employer branding.
Here are some examples of how to use email signatures to enhance the employer branding. 5 advices:
1. It is NOT just a topic for HR teams...
To recruit profiles who are committed to your company, they must understand and adhere to your values. Assuming these values ​​is a subject that concerns all teams. And each employe is your company's best ambassador for its interlocutors. Email signatures are an excellent relay for it, which does not require any particular action from your teams.
2. Promote job offers.
Braodcast banners and messages linked to your job offers or to dedicated Glassdoor pages or else.
3. Share your corporate culture.
Relaying messages that reflect your corporate culture is a good way for your interlocutors to understand how your values ​​are embodied.
4. Highlight a ranking.
Email signatures are an excellent relay of your position in employer rankings, such as Great Place to Work or Happy at work.
5. Support your positioning.
Certifications and labels such as B-Corp or Ecovadis for example, are real commitments considered by candidates. Broadcast it in all exchanges strenghtens your approach and positioning.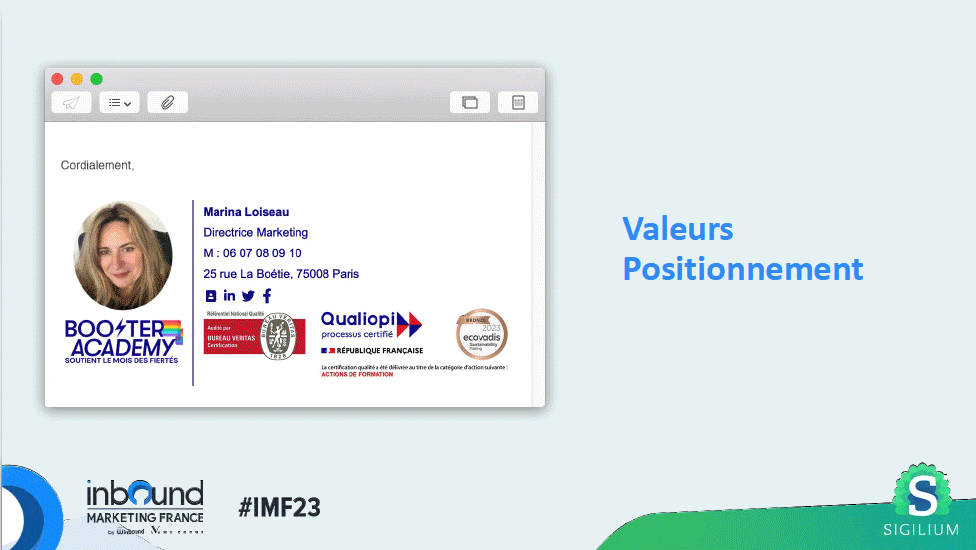 Take advantage of email signatures when prospecting.
1. Personalize the email sequences.
When prospecting, personalization is the key to get results and positive engagement. The content of the message must be concise and effective. The signature makes it possible to bring a more human touch, and add associated content. You must lean on email signatures to add call to actions.
2. Make your offers known.
Take advantage of email signatures to braodcast dedicated call to actions and targeted offers.
3. Share customers' review.
78% of decision makers consider customer testimonials for their B2B purchases. In the nurturing phase, reassurance messages such as customer reviews are extremely beneficial and effective.
4. Enhance your certifications.
Certifications are a key to stand out from competitors. Put it forward to enhance your positioning.
5. Ease booking appointments.
Your email signatures are a key place to offer direct actions. Making appointments easier has become simple, obvious and almost the norm today.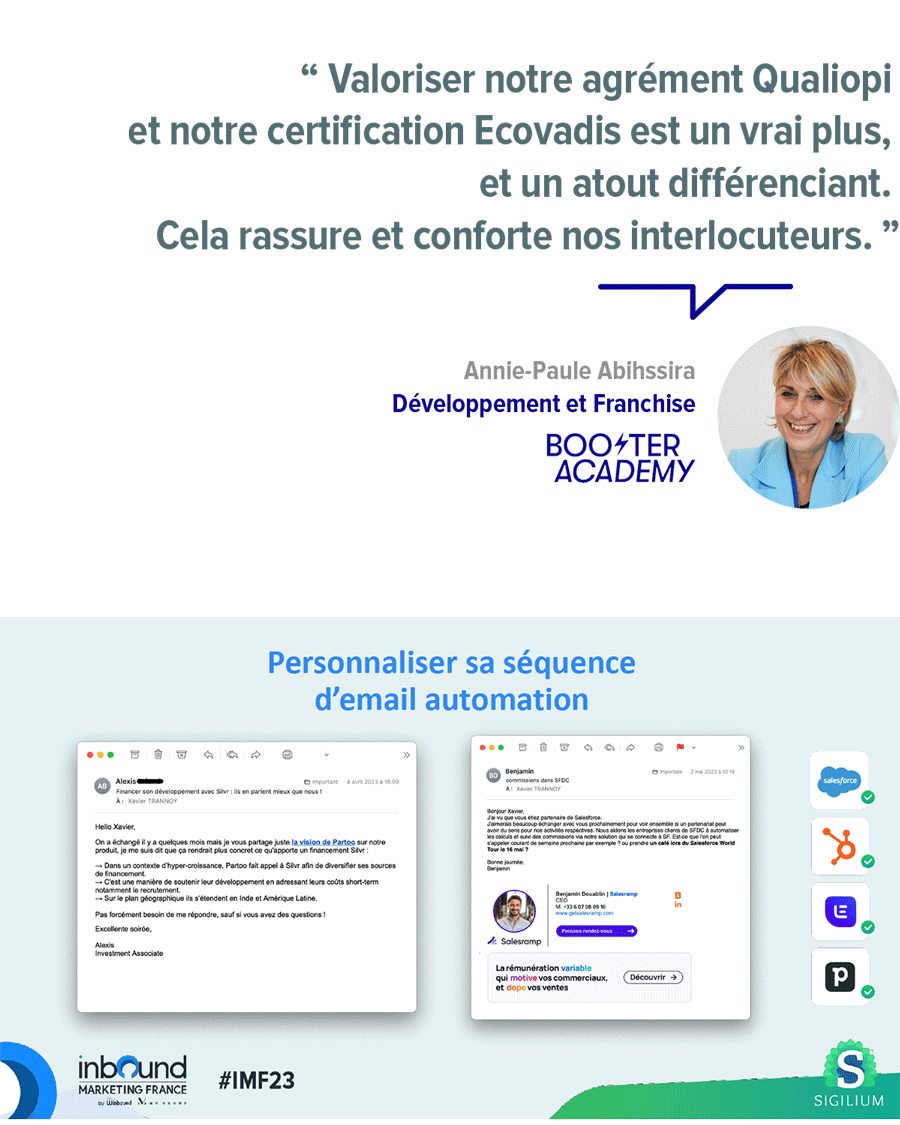 Broadcast content to customers
Promoting additional offers.
Email signatures helps you smartly promote offers for additional services. A good way to get additional revenues.
Show company's dynamism.
Email signatures are an excellent way to share news with your customers, enhance your dynamism and your results. For example: new products, the roadmap, events, new partnerships, etc.
Valuing human being.
In long cycles like BtoB sales cycle, valuing teams and people is key. Displaying avatars in email signatures is an easy way to personify the relationship.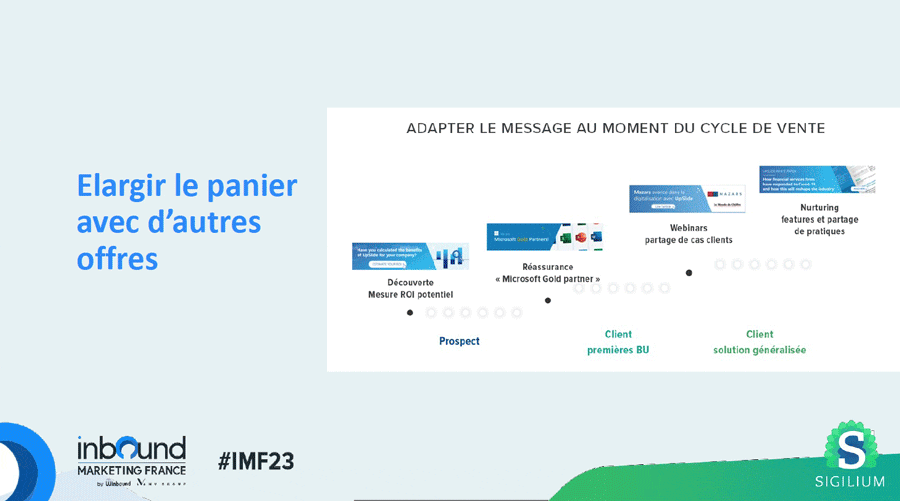 Internally
Whether or not you have dedicated content for internal communication, automating the management of email signatures is a real revolution. broadcast a dynamic content transforms the perception of the company by your teams.
3 customers feedback:
Federate teams around content.
Transforming email signatures into an dynamic and measurable communication channel, the teams are willing to push targeted content related to their activity or own brand.
A ripple effect.
Your teams are ALWAYS proud and happy to convey a quality brand image. It seems simple, but they are proud to belong to a positive collective and a promising brand. They feel "part of the family", and are willing to broadcast targeted banners to contacts and stakeholders. Especially if it's seamless! Sigilium's customer's feedback is cristal clear on it.
People really see banners, internally also.
As you know, your teams almost never go to intranets or content libraries. they read the their emails very often. At D-Edge, for example, experience shows that email signatures are an excellent relay of the activity of each group business unit.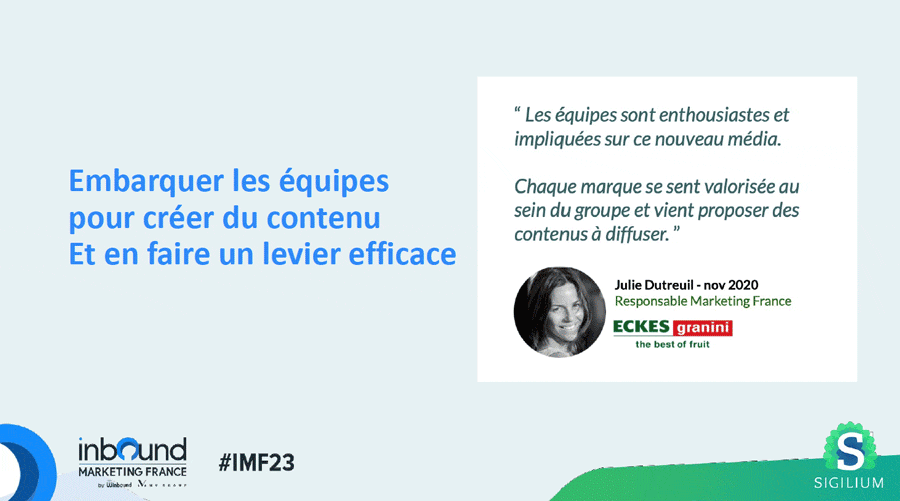 With partners, network and stakeholders
Email signatures are a great way to relay new partnerships, recognition and positive news. Below, some other inspiring and effective actions you can learn from:
Capitalize on the customer relationship.
Do you have customers who are satisfied with your services and products? Capitalize on this community of users and ambassadors to increase your visibility. Ask them reviews and feedback, or to vote for you.
Promote non-business informations.
NGO and charitable organisation use Sigilium to raise funds. they appeal for donations.
Share values.
Email signatures are also a good way to remind people of values ​​and to propose concrete actions to their interlocutors. In the example of TIME, each employee reminds his interlocutors to support professional journalism.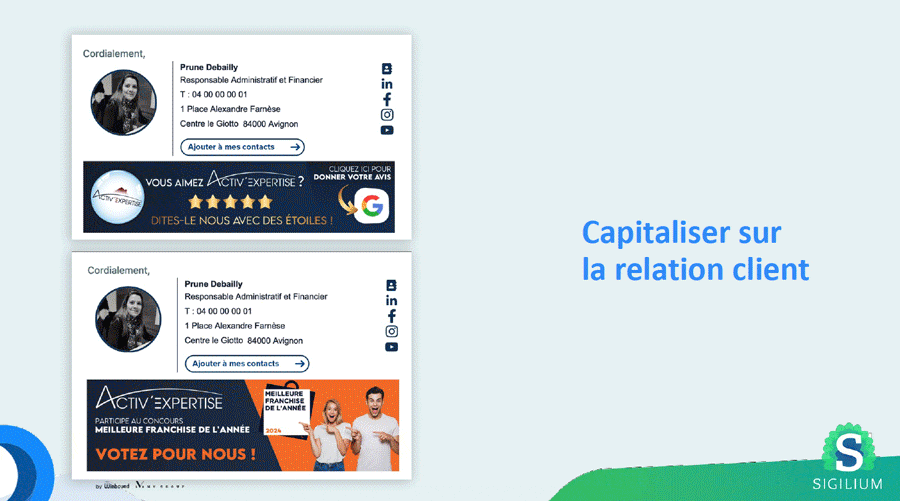 Not yet a Sigilium's user?
Benefit from a 15 days trial and transform email signatures into a powerful and centralized channel!
Receive my example and try Sigilium
What decisionmakers say about Sigilium email signatures

⭐️ Sigilium has been elected in the TOP 10 of productivity softwares by GetApp (Gartner) ! ⭐️