Import, sync and automatically manage users on Sigilium
4 solutions to manage email signatures
1. Import tool : manage users with a simple drag and drop action
easyness
control data step by step
no_code solution
Our dedicated import tool helps you generate and manage all email signatures of the company with a simple excel or csv file.
👉 Main benefit : You can test the data and preview the result of your import before validating. Sigilium automatically detects errors on your file. Email signatures will no more be broken!
How it works:
Drag and drop your excel or csv file
Match data and test import
Preview result and see potential errors
Modify file if necessary
Validate. It's done !
What happens if I re-import a file?
For each user, you can see data already displayed on Sigilium and the informations replacing the actual one, when importing the new file.
Benefit from a complete overview, anytime! Manage thousand of users in a few clicks.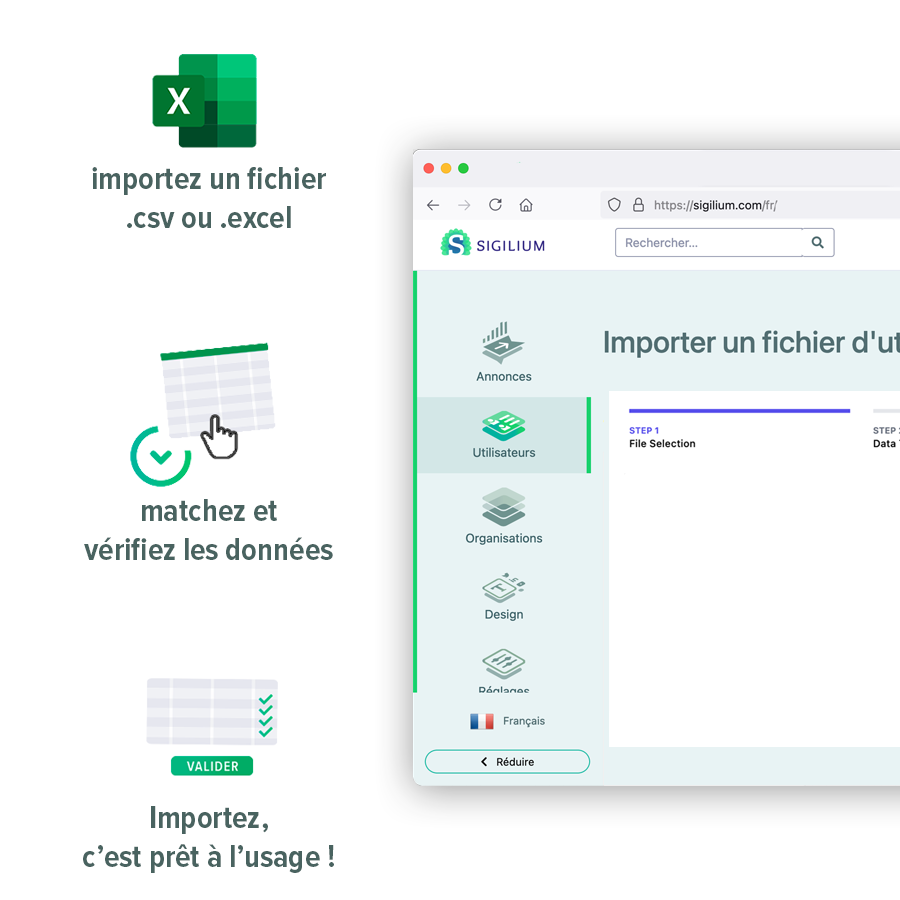 2. Sync user's data through Active Directory on Microsoft 365 or Google Workspace
Microsoft 365
Google Workspace
If data on your Active Directory is consistent and up to date, you can sync automatically all the users listed. Or define rules to only sync a part of your users with Sigilium email signatures.
👉 Main benefit: We automatically detect the new users created, and also the deleted users. Onboarding of the new co-workers has never been that simple.
2 options:
Sync data daily. Active directory is the only source of information displayed on email signatures. The user can't modify it's data, but can decide to display it or not (mobile number for example).
Sync data initially, then user can update it's contact details if data is wrong.class_selector New users are automatically added and sync.
How it works:
Define data to sync
Receive test results of the sync
Once sync is OK, process is automated
Can we un-sync some users?
Yes absolutely. You can un-sync manually a user of the list on Sigilium.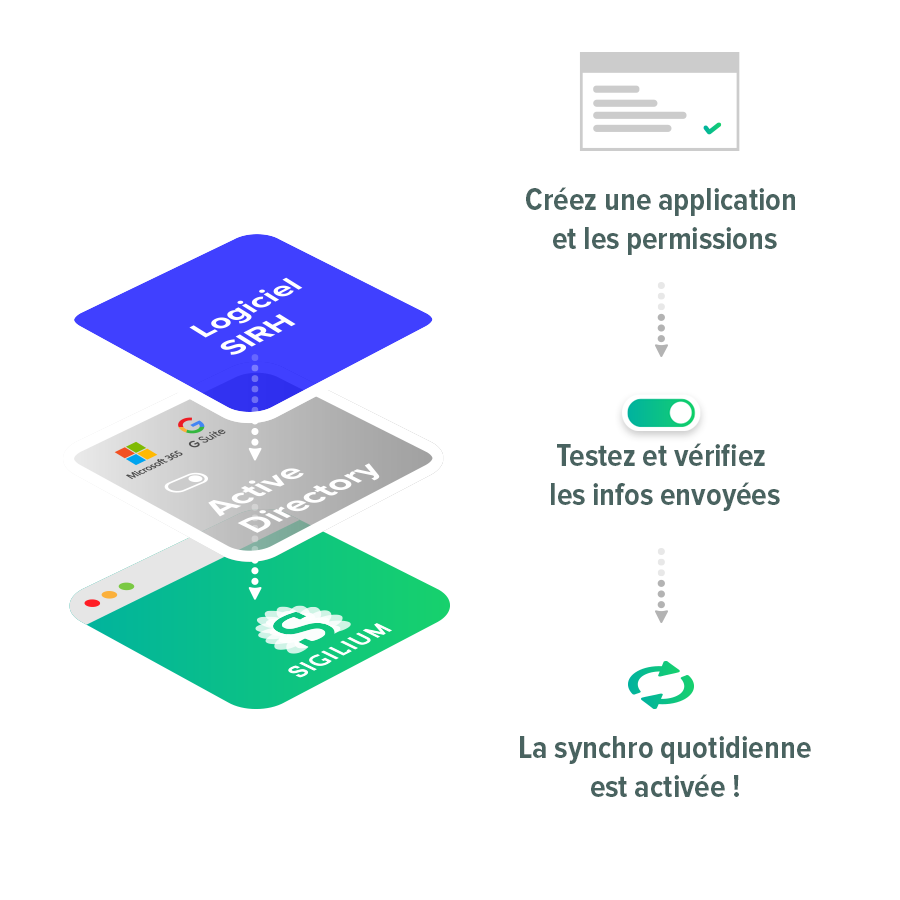 3. Sync users through Sigilium's API
Tailored approach
Highly secured
Automation
use Sigilium's API to sync the contact details of your users, whithout using an Active Directory connexion. A simple and secure solution, for a tailored result.
👉 Main benefit: you can sync the data you want from any source. You can use many custom field, depending on your needs.
How it works:
Prepare data to sync
We test sync result
You can modify sync anytime
Is it possible to un-sync some users?
Yes absolutely. You can un-sync manually users listed on your Sigilium's account.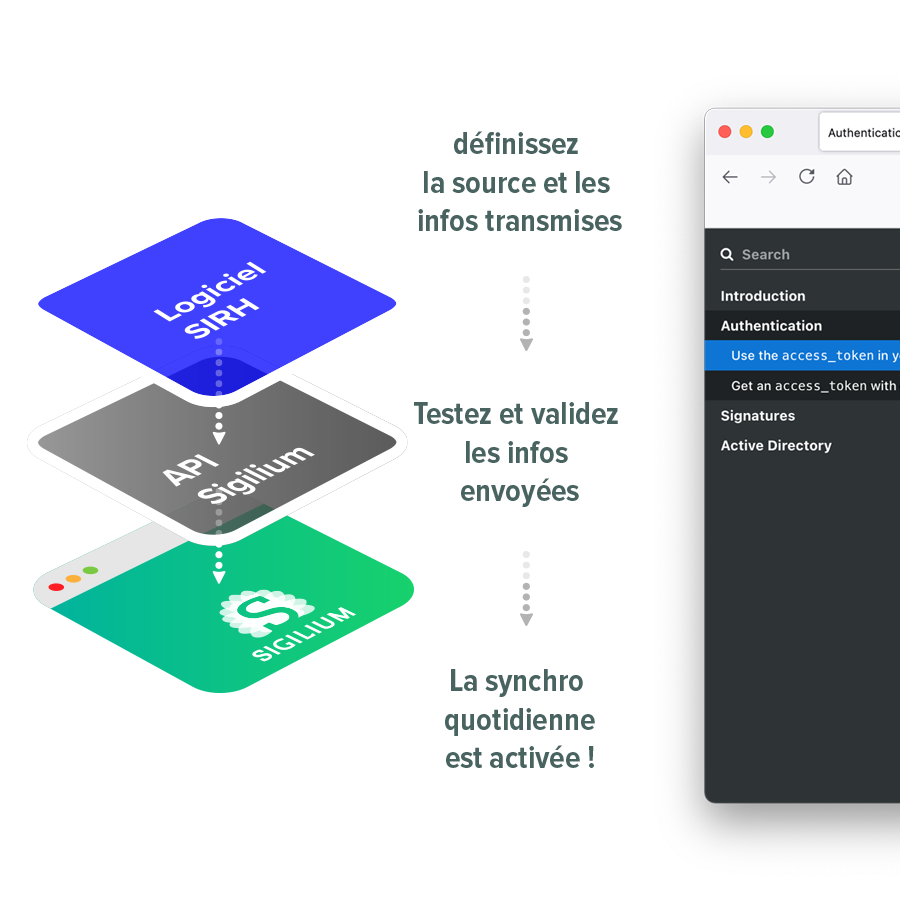 4. Sync data from you HRIS source!
Automation
Sync Sigilium with Lucca
Sync the user's contact details directly from your HRIS source,through an API connexion! Discover our integration with Lucca and very soon with Payfit.

Not yet a Sigilium's user?
Benefit from a 15 days trial and transform email signatures into a powerful and centralized channel!
Receive my example and try Sigilium